The coalition of hate
Under Janez Janša's current government Slovenia is witnessing a revival of Neo-Nazism. Neo-Nazi groups and individuals enjoy conspicuous support of Janša's government and his ruling Slovenian Democratic Party (SDS).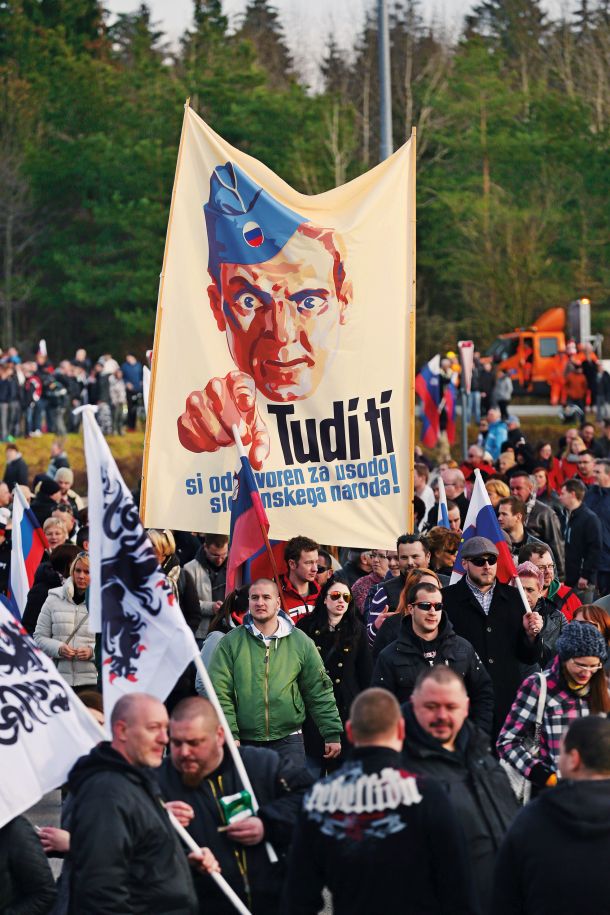 Anti-migrant protest in Šenčur on February 20th 2016, which was also attended by Neo-Nazis 
© Borut Krajnc
Recent history of the far right in Slovenia extends over the last four decades and is not without anecdotes. In 1980s, groups of Neo-Nazis circulated around Ljubljana, systematically beating up members of other subcultures and nationalities. Skinheads marked the independence of Slovenia in 1991 in front of the parliament, shouting: "Slovenia to Slovenians! All foreigners out!" Or, more specifically: "All čefurs out!" (Čefur is a pejorative expression denoting the inhabitants of Slovenia who are of Serbian/Bosnian/Croatian ethnic origin or have come to Slovenia from other parts of ex-Yugoslavia.) In 2000, the most enthusiastic Neo-Nazis shaved their heads, dusted off their green bomber jackets, ironed tight jeans and bought new white laces for their black army boots. They then took the train to Berlin to introduce themselves to German 'comrades', who did in fact wait for them at the Berlin station. They beat them up and sent them back to Slovenia – flying, so to speak. These were not the only beatings Slovenian Neo-Nazis suffered that year. When the far-right Freedom Party of Austria (FPÖ) with (its then leader) Jörg Haider joined the Austrian government in February, about 2 000 people protested in Prešeren Square in the center of Ljubljana against FPÖ's xenophobic policies, which were also directed against Carinthian Slovenians living in Austria as an ethnic minority. Neo-Nazis appeared nearby with provocations. Protesters, outraged by the treacherous mob, beat them up. The skinheads fled and left behind a wounded comrade. Mladina's journalist Jure Aleksić wrote about the incident at the time: "He most likely suffered a concussion, which in his case should have been fairly unnoticeable."
Slovenian Neo-Nazis managed to make a breakthrough in 2001, when they were accepted into the international Blood & Honor (BH) network. Ironically, their entry in BH was secured by 'čefurs', specifically Serbian Neo-Nazis, already recognized at the time in Europe as violent football fans, and their groups Blood & Honor Serbia and Combat 18 Serbia were well known. Various groups also began to emerge in Slovenia: Blood & Honor Slovenia (BHS), Slovenian Radicals (Slovenski radikali), HeadHunters Domžale and Autonomous Nationalists (Avtonomni nacionalisti). Among other things, they organized concerts attended by Neo-Nazis from the wider region. Occasionally, they physically abused students and young activists, and in June 2009, they brutally beat up the gay activist and journalist Mitja Blažič, boasting about it abroad while apologizing for it in courts at home.
Other far-right groups, such as Hervards (Hervardi) and Here is Slovenia (Tukaj je Slovenija), were formed simultaneously. Hervards were led by Andrej Šiško from Maribor but are no longer active. After 2017, their website almost entirely died out, which coincides with the establishment of a vigilante group Styrian Guard (Štajerska varda), patroling the southern Slovenian border and run by Šiško. Meanwhile, the group Here is Slovenia recruited young nationalists into the ranks of Neo-Nazis. It was led by Andrej Okorn from Ljubljana, who remains a Neo-Nazi. The public has learned about him lately after his statements on behalf of the self-proclaimed Yellow Vests (Rumeni jopiči), which formed to counteract protesters against Janša's government and made their first public appearance in Prešeren Square last June. (The civil society's antigovernment protests have been going on every Friday since March 2020.)
After screening of documentary The Coalition of Hate on the public television RTV SLO in January 2014, most Neo-Nazis went silent; some have even closed their Facebook profiles. However, the hatred did not go away. It exploded again in all its might in the form of protests against refugees and migrants, and has spread like a virus across social media since 2015. Today's Neo-Nazis are different in the way they dress (they abandoned the militant street wear) and in their surnames; many of them indicate they are not of Slovenian origin. In fact, they reveal Serbian/Bosnian/Macedonian origins suggesting migrant background: Tomić, Stanojevič, Sekulović, Djulinac, Petrovski, Djurašević, Oručevič, Djuričin, Ivanoski, etc. How did such a turnaround happen within the far-right movement, which until recently demanded pure-blooded Slovenia?
The long-standing Serbian-Slovenian alliance did not have a decisive influence on the changes within the Slovenian Neo-Nazi scene. There is something bigger at play. The ideology of hatred that connects contemporary European far-right movements is based on two conspiracy theories. The first refers to "cultural Marxism" and argues that liberal elites (with an emphasis on Jewish elites) want to undermine white, Christian civilization by promoting globalism, multiculturalism, equality, tolerance, and other liberal policies. The most infamous proponent of this theory is Anders Breivik, a Norwegian Neo-Nazi who carried out a bomb attack in Oslo and a shooting massacre on the island of Utøya on July 22, 2011, in which he killed 69 members of the Worker's Youth League (AUF). The second is the "great replacement" theory, according to which aforementioned elites are seeking to replace white Europeans with non-white people and foreign cultures.
Among Neo-Nazis in Slovenia it is no longer important who is a Slovenian by ethnicity; they see themselves primarily as whites defending white Europe. They print T-shirts and sweaters with a Kalashnikov motif and the slogan "Defend Europe". They swear by the words of a convicted American Neo-Nazi terrorist David Lane: "We must ensure the existence of our people and the future of white children." But in reality, what they mostly do is threaten young activists, high school and university students, artists, intellectuals, journalists, antigovernment protesters and anyone else who they don't like. Furthermore, they propagate the views of the SDS party, and glorify Adolf Hitler and the symbols of (neo)Nazism.
Instagram terrorists
Slovenian Neo-Nazis no longer have distinctive leaders. In towns where they are present, those who have been active for a long time stand out. Such examples include Sergej Garzelli and Elvis Oručevič in Domžale, Luka Kavčič and Nace Eržen in Kranj, Kristjan Podobnik and Nace Prosen in Žiri, and a new group that has formed in Ljubljana, which includes Predrag Tomić, Urban Purgar, Andrej Sekulović, Žan Žalec and others, in addition to the already mentioned Andrej Okorn. At the Mladina weekly, we keep records of more than a hundred Neo-Nazis and their closest sympathizers; a few dozen remain currently active.
With absence of distinctive street leaders, individuals most engaged on social networks are emerging at the forefront of the movement. One of them is Urban Purgar from Vnanje Gorice near Brezovica. We cannot detect him on any of the thousands of photos older than 2020. He is new to the Neo-Nazi scene and fanatically eager to prove himself. Purgar regularly, on an almost daily basis, sends insulting and threatening messages to left-wing activists, artists etc. via social media, especially Instagram, and often declares war on them: "The last struggle of Slovenians against the remnants of the communist mob for the existence of the Slovenian nation has begun." And: "Scum, you wanted a war, you got it." And: "I exercise 11 times a week with a team for this final confrontation. We have enough of the degenerate leftist politics and its representatives. (…) We have been silent for too long at the disintegration of all values, now we will settle the score for everything [that happened] since 1945." Among other things, he implies that he is ready to kill. In a Tweet last November, he asked if the Slovenian nation would resent him if he imitated Breivik and shot protesters in Prešeren Square. On another occasion, he posted a picture of himself with a gun. And on yet another occasion he wrote about the president of Social Democrats: "Tanja Fajon is a bitch who needs to be executed".
Due to personal data protection the police did not reply to our inquiry on the number of investigations of Purgar for such outbursts. But according to him, the police have initiated 11 proceedings against him in the last year.
Neo-Nazis intertwine their street activities with self-promotion on social media. They like to take photos of themselves holding banners that oppose cultural Marxism, call for the demolition of Metelkova (a cultural center in Ljubljana) and threaten mainly young activists. When the French government banned the far-right Generation Identity movement in March because of GI's "promotion of discrimination, hatred and violence," Neo-Nazis posed for a photo in front of the French embassy holding a banner with a slogan "Je suis GI".
The violent evacuation and immediate demolition of a leftist squat Rog in Ljubljana, ordered by Mayor Zoran Janković in January, was a major feast for the Neo-Nazis – all the more so because their comrades were among the security guards of the company Valina varovanje that guarded the area. One of them was Erik Stanojevič, who has his right cheek tattooed with number 88, the international symbol for HH or "Heil Hitler". The Neo-Nazis publicly boasted, that "our supporters are helping to demolish Rog," and posted photos of stolen banners of evicted Rog users with a message that they should come get them if they dared. Many valuable personal items, from computers to music equipment, disappeared from Rog. According to our information, quite a few Neo-Nazis work for the security company Valina. They are recruited by a long-time security guard at the company, Jure Godina, also an influential member of the BHS. Godina does not expose himself as a Neo-Nazi, but we first noticed him on October 29, 2011, when we photographed him in front of the InBox club in Ljubljana, where Blood & Honor Slovenia was celebrating its 10th anniversary. Godina has number 88 tattooed on his left elbow.
In addition to a bunch of profiles on social media Neo-Nazis also created two other web portals designed to recruit people into their ranks in more covert and indirect ways. The first is called National Bloc (Narodni blok) and aims to fight "rampant globalism and the destruction of our ethno-cultural identity". The second is Tradition Against Tyranny – TPT (Tradicija proti tiraniji), which "advocates the preservation of our racial and cultural identity and operates within the ideas of the European nationalism and the identitarian right". The websites promote racist and Neo-Nazi themes but avoid posting recognizable symbols and even faces. In the photo reportage titled Visit to Kočevski Rog, recently published on TPT, Žalec, Purgar and Sekulović blurred their faces and did not publish a photo of Purgar giving a Nazi salute. (Kočevski rog is a forest where thousands of Nazi collaborators were killed immediately after the end of the Second World War.)
In conjunction to this, in a Tweet of April 15, 2021, Purgar called on Prime Minister Janša and his government to remove all monuments in honor of the National Liberation Struggle by summer, otherwise they will be destroyed by Neo-Nazis themselves. Several Partisans' monuments have already been destroyed since then.
Yellow jackets
The most attention-grabbing Neo-Nazi project of the past year is the group self-named Yellow Vests. The media, including Mladina, have already revealed names of the members of this group and these are available online. In July last year, the right-wing portal E-maribor published a propaganda interview with an unnamed representative of Yellow Vests who kept repeating that his group was fighting against (sic.) the hatred, violence and chaos of Friday's antigovernment protests (all of which have been peaceful). He went on saying Yellow Vests represent united patriots who act spontaneously. That, too, is a lie. In this year's Report on Activities and Financial Operations, which was submitted to the Parliamentary Commission for the Oversight of Intelligence and Security Services and is not available to public, the Slovenian Intelligence and Security Agency emphasized that the Neo-Nazi groups Blood & Honor Slovenia and National Bloc joined forces and organized themselves as Yellow Vests to counter the anti-government protests.
Although the ruling SDS party once tried to publicly distance itself from these movements it now no longer hides its sympathy for the Neo-Nazis. When the police intervened against Yellow Vests after they wanted to ignite a violent incident on June 25, 2021 before the start of an alternative celebration on the occasion of the 30th anniversary of the Slovenian independence organized by civil society in Prešeren Square, Prime Minister Janez Janša and Interior Minister Aleš Hojs immediately called for an investigation into police handling of the situation. Hojs wrote on Twitter about the Neo-Nazis who were detained by the police: "In my opinion, there was no need for them to come to Prešeren Square since they could have celebratedculturedly civilized in Republic Square [place of official celebration]. Don't throw pearls to pigs, the Bible says, and they should have followed that wisdom."
In fact, Neo-Nazis have always received the SDS support. When they walked as a group through Metelkova in February and announced that it should be demolished, Janša's State Secretary for National Security and an SDS member Žan Mahnič shared their statement on Twitter. When Neo-Nazis published the name and home address of an alleged anti-fascist activist from Domžale and called to cause a stir at his home, Janša himself shared their post on Twitter.
The SDS is a far-right party
For years, the SDS has been poisoning public discourse with primitive chauvinism, as well as normalizing hate speech, which in its extremes includes death threats to representatives of civil society and the political left. Prime Minister Janša has repeatedly publicly promoted the Neo-Nazi idea that cultural Marxism threatens Europe. Nothing was off limits when it came to this. When Tomaž Štih, an online troll and SDS supporter, tweeted that Ljubljana's high school Gimnazija Bežigrad "is changing into Utoya, i.e. a socialist camp for the political indoctrination of minors," Janša retweeted this message. Thus, it is not surprising that Klemen Traven, a former member of the supervisory commission of the Slovenian Democratic Youth (the SDS youth section) announced on the same social network: "Breivik, we need you!"
The SDS has also repeatedly expressed support to the Slovenian branch of Generation Identity (Generacija identitete). In many countries, the Identitarians are subject of criminal and anti-terrorist investigations, while in Slovenia Nova obzorja, a publishing house, co-owned by the SDS, has published two of their books, Manifest for Homeland and Europe of Nations. The first book was advertised by aforementioned Mahnič in the parliament, an incident specifically mentioned in the 2018 report on Slovenia by the international institute European Eye on Radicalization. Generacija identitete was promoted by Nova24TV (the unofficial SDS TV channel) and SDS prepared a public discussion on migrations in cooperation with the GI in Kranj. When Austrian authorities launched an investigation in April 2019 against Martin Sellner, the head of the GI in Austria, suspected of links to New Zealand far-right terrorist Brenton Tarrant, Slovenian GI expressed support to him on Twitter, and Janša retweeted their post. Sellner praised Janša for being "Ein Ehrnemann!", an 'honorable man'. According to our findings, Generacija identitete played the same role as the group Tukaj je Slovenija years ago – recruiting young nationalists into the ranks of Neo-Nazis.
The flirtation of the SDS with Neo-Nazis has been persisting for years. In 2010, Žan Mahnič helped establish the Slovenian Democratic Youth branch in Žiri, which included at least two BHS members, Kristjan Podobnik and Dejan Prosen.
The SDS publicly reiterates that it is not affiliated with Neo-Nazis. Therefore it is worth mentioning another, more recent incident: the aforementioned Neo-Nazi Sekulović collaborates with the media Nova24TV and Demokracija (a newspaper, co-owned by the SDS). For Demokracija, he conducted an interview with Laura Towler, a representative of the British far-right movement Patriotic Alternative (PA). The entire interview has been available on the SDS website since last September, and reads that, among other things, British "Jews dominate important positions in government and in the media, through which they advocate open borders." The STATE OF HATE - Far Right Extremism in Europe report, published in January this year by Hope not Hate in the UK, Amadeu Antonio Stiftung in Germany and the EXPO Foundation in Sweden, states that "PA is a racist, far-right organization with antisemitism at its core". PA also promotes the Neo-Nazi theory of the great replacement, which was emphasized by Sekulović in the introduction to the interview with Towler.
Secret and public comrades
When investigating Neo-Nazis, we count on that at least one of them will post numerous group photos and footage, through which we can more easily decipher their structure and various connections. This time around it was Žan Žalec. Žalec is rather young and does not seem charismatic at all; in fact, next to other, larger and older Neo-Nazis, he seems rather lame. Nevertheless, he is an important member. Žalec has been (or at least was) one of the leaders of Generacija identitete and is associated with Žan Mahnič. He most likely personally invited him to an event on the occasion of the 28th anniversary of founding of Slovenian Democratic Youth in December 2017, where Žalec appeared as an official representative of the GI movement. Mahnič was at the time president of the SDS youth section.
Žalec's photographs and video recordings reveal that he is connected to two other rather influential members of the SDS: Gašper Pečar and Ana Zagožen. Pečar is an SDS municipal councilor in Oplotnica and he worked for MEP Romana Tomc in Brussels; general public knows him from an affair with a video clip showing members of Slovenian Democratic Youth using cocaine. Ms. Zagožen, on the other hand, is an SDS city councilor in Ljubljana. Pečar and Zagožen are followed on Instagram by the groups Narodni blok and Yellow Vests, as well as individual Neo-Nazis. According to available data, Žalec takes care of the communication between the SDS and Neo-Nazis. He does not shout about this from rooftops nor does he attend Yellow Vests protest rallies. He shares a lot of photos of socializing with Neo-Nazis among friends on social media, but he does not expose himself too much.
Neo-Nazis know they must be careful when publicly speaking and expressing their opinions so as not to expose and jeopardize links with the SDS. Thus, the top of the SDS immediately renounced Aleš Ernecl, an extreme right-winger from Maribor, who set up a web portal National Press Agency (NTA), for which he initially enjoyed public support from the SDS. But Ernecl went too far: in a conversation with a Canadian racist Stefan Molyneux he described the NTA as a "new Slovenian fascist media" and published the video of their discussion on his YouTube channel in March. Several NTA columnists, including an SDS member and state secretary in Janša's cabinet Vinko Gorenak, stopped cooperating with the NTA after this and the subsequent public outcry. The SDS is clearly aware it walks a thin line you can belittle the Holocaust, you can spread intolerance, hatred and antisemitism, you can cooperate with Neo-Nazis, but you cannot say out loud that you are a fascist.
The team of NTA writers (among others) consists of the city councilor Zagožen, Tomaž Štih, Andrej Sekulović, another Neo-Nazi Maj Šuklje, leader of the party Homeland League Bernard Brščič and Alen Štojs Goljar who publishes under the pseudonym Alen Koman. Goljar has been (or was) a member of a right-wing party New Slovenija (NSi) and was a guest on their YouTube channel together with Purgar and Ernecl. In the 2014 parliamentary elections he ran on the NSi list in Ljubljana together with Aleš Hojs, who was at the time still a member of NSi, now a coalition party in the SDS government. Today, Hojs is a member of the SDS. Furthermore, NTA team of writers includes a Serbian citizen Aleksandar Vorkapić, the leader of a Neo-Nazi group Zentropa Srbija which destroyed graves and monuments of national heroes in Belgrade last December, and pasted posters depicting armed US far-right extremist Kyle Rittenhouse who killed two anti-racist protesters in Kenosha, Wisconsin, on August 25 last year. The posters read: "Kyle was right." It is also through these connections that ideas about the destruction of Partisan monuments and shooting of the anti-government protesters spread to Slovenia.
Ernecl recently announced his withdrawal from NTA and handed over the position of editor-in-chief to Urban Purgar on July 20. While Ernecl is devoting himself to his other web portals, namely altright.si, informer.si and politico.si, National Press Agency NTA now seems to be completely controlled by Neo-Nazis. The publisher of the NTA is Association for the Promotion of Traditional Values (Društvo za promocijo tradicionalnih vrednot), represented by Purgar. The founders shy the public but we managed to find out that they are Žan Žalec, David Mojškerc from Radovljica (founder of the Generacija identitete) and Žiga Bauer from Domžale. Bauer is a former SDS member who has joined the nationalist right-wing Slovenian National Party (Slovenska nacionalna stranka). He is a long-time friend of Žalec and Mahnič; both attended his wedding at the end of August 2019. Mahnič declined to comment on his connections with Žalec and Bauer.
One of the writers at NTA has voluntarily revealed how he had been recruited by the agency. This is Robert Janec who was together with others detained on June 25, 2021 in Prešeren Square. In a personal letter addressed to Interior Minister Aleš Hojs, he first shed crocodile tears over his detention, then added: "I must emphasize, however, that I am not a member of any extremist group, as they/we, Yellow Vests have been described in the media. I am not a member of this group, but I am a columnist for the online magazine NTA (National Press Agency), which I joined of my own free will and at the invitation of Žan Žalec and Predrag Tomić." Neo-Nazis, led by Okorn, Purgar and Tomić, now use the NTA to, disguised as journalists, film and provoke Friday antigovernment protesters. However, they are not journalists. The NTA is not even registered in the official media register of Slovenia.
And as far as the Association for the Promotion of Traditional Values is concerned: Article 3 of the Associations' Act stipulates: "It is not allowed to establish an association whose purpose, goals or activity are aimed at violently changing the constitutional order, committing criminal offenses, or encouraging national, racial, religious or other inequalities, inciting national, racial, religious or other hatred and intolerance or encouraging violence or war." Nevertheless, the Association in question operates smoothly, and the Ministry of Culture, led by an SDS member Vasko Simoniti, recently granted it the status of a non-governmental organization in the public interest in the field of culture. The Association is currently collecting donations on its transaction account to pay fines and legal services for Neo-Nazis detained on June 25 (after it has been blocked by PayPal).
The Association is registered at Mestni trg 10 in Ljubljana. It shares the mailbox with others: among them are Andrej Okorn and two of his companies, Rverona and Vezenina. There is also Sinani Gjani, a well-known name on the Ljubljana Neo-Nazi scene, who has registered two associations at this same address: Sport association Boxing to health (Športno društvo Z boksom do zdravja) and National Defense Association Freedom to the Nation (Narodnoobrambno društvo svoboda narodu) whose secretary is Okorn. Ironically, Mayor of Ljubljana, Zoran Janković, has repeatedly emphasized that Ljubljana is an anti-fascist city, while a nest of Neo-Nazis is only a hundred meters from his office. And who knows, maybe one day the Association for the Promotion of Traditional Values ​​will have its own office in the renovated cultural and creative Center Rog. Maybe then Purgar will be able to post a photo posing with Janković, just like the one Valina's security guard Jure Godina has posted on his Facebook profile.
We mention Valina again deliberately. Since Janković became mayor in 2006, Valina varovanje has done an exemplary load of business for the City of Ljubljana; the total value of it is close to 10 million Euros.
On July 2, 2021 Friday protests' organizers, civil society representatives and citizens held a People's Assembly in the Republic Square in front of the parliament. On the other side of the square was a group of Neo-Nazis. Let's go over there and talk to them, we agreed with a colleague and approached Okorn, Purgar, Tomić and others. A half an hour conversation was surprisingly cultivated and relaxed, however nothing meaningful could be extracted from it. Asked if they would vote against the government's amendment to the Water Act on the upcoming referendum, they replied that they would not take part in it so that a quorum would not be reached.
Happy birthday, Slovenia …
In June last year, Europol presented a report on terrorist threats in Europe to the European Parliament's Committee on Civil Liberties, Justice and Home Affairs. Manuel Navarrete, head of the Europol Counter-Terrorism Center, expressed particular concern regarding the spread of far-right extremism. He noted that EU Member States do not as a rule prosecute deadly attacks on minorities, migrants and politicians (for example, the assassination of German politician Walter Lübcke in June 2019) as terrorist acts. As a result, this issue of concern in the EU is often not taken seriously enough.
What can we say about Slovenia in this context? Anton Olaj was appointed Director General of Police in January 2021. Prior to this he was retired and followed Neo-Nazi groups Yellow Vests and National Bloc on Twitter. Olaj believes that Friday's anti-government protests are essentially protests against democracy and 'Sloveniandom' (could be loosely translated as 'the essence of belonging to the Slovenian nation) and he has publicly warned of the alleged political process of denationalization of the Slovenian nation. The term denationalization is an integral part of the Neo-Nazi conspiracy theory of the great replacement. After the detention of members of Yellow Vests on June 25, he immediately ordered an inquiry into the police handling of the situation in Prešeren Square. It is difficult to dismiss the impression that Neo-Nazis are dearer to him than police officers. On Friday, July 9, he presented to the public the report on the police officers' handling of the situation and emphasized how problematic it was that the police did not take action against the anti-government protesters as well. Equating one with the other is a cheap political trick. Namely, when the Neo-Nazis were taken away from Prešeren Square, all incentive for violence of any kind vanished with them. Instead, an alternative celebration commemorating the 30th anniversary of Slovenia's independence took place attended by thousands of people.
It was an important victory for civil society. It was followed by the mass rejection of government's amendment to the Water Act on a referendum on July 11. However, neither has altered some essential facts. Slovenia is still ruled by Janez Janša – a man who openly spreads Breivik's ideas and talks about the possibility of a civil war. A man who names individuals fond of Neo-Nazis to key positions – who declare themselves patriots but nevertheless threaten to kill Slovenians in the same manner Breivik massacred 69 children and adolescents on the island of Utøya. It is difficult to embrace that this is Slovenia on its 30th birthday. It is impossible, actually.
**LINK TO THE ORIGINAL ARTICLE IN SLOVENE (KOALICIJA SOVRAŠTVA II)**